Swindon's Top Garden Centre
During autumn at John Toomers you'll find a fine selection of seasonal plants - especially shrubs, trees, conifers and roses.
Other seasonal plants include heathers and grasses, and of course our range of winter pansies and violas, with a complementary selection of patio plants and bulbs for tubs and baskets.
All with top advice too, plus everything else for your garden!


PLANT OF THE MONTH - DWARF CONIFERS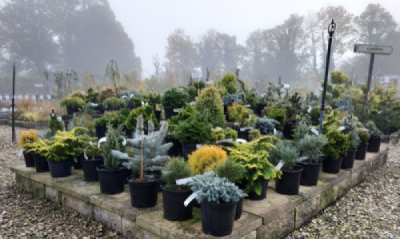 A first-rate group of plants to add all year-round interest to the garden. Many change colour at this time of year in shades of gold, plum and orange as well as grey-blue. Choose from our specialist range of well over 50 varieties. These include:
· Rounded or mound forming types like Thuja Anniek and Chamaecyparis Baby Blue
· Upright shapes e.g. Chamaecyparis Snow White and Picea Sanders Blue
· Character pines such as Pinus Doone Valley and Pinus Carstens Wintergold
· Ground cover e.g. Juniperus Goldshatz and Juniperus Procumbens Nana
Dwarf conifers look good as specimens in a suitable pot or in a group with contrasting conifers and other interesting plants. These could include heathers, grasses or alpines.